Significance
This document made Australian law independent of British parliaments and courts. The Commonwealth's Australia Act was the final one of the seven Acts of the seven Australian parliaments needed for a constitutional change to the whole Federation. The British Parliament also legislated to complete the untying of this constitutional 'apron string'.
The Australia Acts ended the inclusion into Australian law of British Acts of Parliament and abolished all remaining constitutional provision for appeals from Australian courts to the Privy Council in London.
From the date of Proclamation (see below) Australian law was 'home grown' – built on British foundations, but built according to the decisions of Australia's own legislatures and courts.
History
The Prime Minister and the Premiers of the six States reached agreement at conferences held in 1982 and 1984 to introduce legislation in each of the parliaments for a uniform change. Each State, and the British Parliament, passed individual Acts before the Commonwealth enacted its own Australia Act. None of the eight Australia Acts give the date on which they will become operative. This had to be done simultaneously, once all the legislation was in place.
A Proclamation, signed by Queen Elizabeth II at Government House in Canberra on 2 March 1986, stated that the Act will come into effect at 5.00 am Greenwich Mean Time the next day. At this
ceremony
Queen Elizabeth presented Prime Minister Bob Hawke with the original Proclamation, and an Assent original of the
Australia Act (UK)
, to which she had signed her assent on 7 February 1986.
Although this Act defines Australia as a 'sovereign, independent and federal nation', and the Australia Acts are often described as completing the process of constitutional development begun with the Federation movement, Australian still retains the Queen as head of state. A referendum to remove this final tie by replacing the Crown with a President was held in Australia on 6 November 1999. The required majority of voters and majority of States necessary to make an alteration to the Constitution was not achieved and this final tie remains in place.
The seven Australia Acts thus remain the most recent step towards Australian constitutional independence, in a path from the
Commonwealth of Australia Constitution Act
in 1900, to the
Treaty of Versailles
in 1919, the
Balfour Declaration
in 1926, the
Statute of Westminster Adoption Act
in 1942 and then the Australia Act in 1986.
Description
This document has a cream-coloured cover, the pages are stapled and glued inside.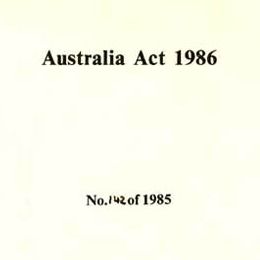 Detail from the cover of the Australia Act 1986.
| | |
| --- | --- |
| Long Title: | An Act to bring constitutional arrangements affecting the Commonwealth and the States into conformity with the status of the Commonwealth of Australia as a sovereign, independent and federal nation. (No. 142 of 1985) |
| No. of pages: | 7 + cover + provisions |
| Medium: | Cream paper |
| Measurements: | 32 x 20.1 cm |
| Provenance: | House of Representatives |
| Features: | A formal document marking a national change |
| Location & Copyright: | National Archives of Australia |
| Reference: | NAA:A1559, 1985/142 |