Commonwealth Electoral Act 1924 (Cth)
Significance
This document, signed by the Governor-General on 10 October 1924, alters the original Commonwealth Electoral Act by making voting compulsory and establishing penalties for failure to vote. This is a founding document, with the
Commonwealth Franchise Act 1902
, defining the terms on which Australians vote.
History
This document made Australia one of the few nations in which voting is both a right and a duty. The Act, proposed by the Chief Electoral Officer after the fourth Federal election in 1910, originated as a private member's Bill. It was supported by the Bruce–Page Coalition Government and also by the Opposition, and passed speedily through Parliament.
This was an amendment to the original Commonwealth Electoral Act of 1902 which set up the machinery for federal elections by:
establishing the offices of Chief Electoral Officer and Commonwealth Electoral Officers for each State


making arrangements for dividing states into electoral divisions


establishing polling places, electoral rolls, revision courts and returning officers


arranging for issuing writs for elections, nominating candidates, postal voting, the poll, scrutiny of counting of votes


making special provisions for Senate and House of Representative elections


arranging return of writs


setting limits of electoral expenses; and


defining offences and penalties and disputed returns
Description
This document has one folded sheet, forming four pages (fourth page blank), fixed inside a paper cover with blue ribbon, with the Royal Arms. The signatures are on p.1 and p.3.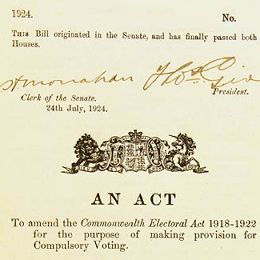 The Clerk of the Senate and the President signed this Bill.
| | |
| --- | --- |
| Long Title: | An Act to amend the Commonwealth Electoral Act 1918–1922 for the purpose of making provision for Compulsory Voting (No. 10 of 1924) |
| No. of pages: | 4 + cover (page 4 blank) |
| Medium: | Paper |
| Measurements: | 29.2 x 22.3 cm |
| Provenance: | The Senate |
| Features: | Signature of President of the Senate on page 1; Assent block on page 3 |
| Location & Copyright: | National Archives of Australia |
| Reference: | NAA: A1559, 1924/10 |