Significance
This document made the establishment of the Province of South Australia possible by setting out the conditions for its establishment and granting authority for this to be done by executive action.
South Australia thus became the only Colony authorised by an Act of Parliament, and with unique features, including a requirement and expectation that the new settlement would be developed at no cost to the 'Mother Country'.
Administrative power was divided between a Governor who represented the Crown, and a Resident Commissioner, reporting to Colonisation Commissioners. The Resident Commissioner was responsible for the survey and sale of land and for the migration arrangements and funding.
The area was defined as 'unoccupied' or 'waste lands' which were 'supposed to be fit for the purposes of colonisation' thus overriding any rights of the' Aboriginal inhabitants. Convict transportation was forbidden, and the spouses and children of 'poor Emigrants' assisted by the Emigration Fund were required to travel with them to the Province.
History
The 1834 Act was the result of a campaign led initially by Robert Gouger, the editor of Edward Gibbon Wakefield's
Letter from Sydney
, to induce the British government to help give effect to Wakefield's colonisation principles. In 1831 the South Australian Land Company was formed and representations were made for a Royal Charter which would establish a colony in Australia to be administered by the developers of the land, the sales of which would finance assisted emigration to the Colony.
Failing to get government support for a chartered Colony, supporters of the venture formed the South Australian Association in 1834 which finally secured the passage of this Act, although it fell short of their original plan.
Executive action to establish the Province under the Act was taken in February 1836, when King William IV signed the
Letters Patent
. This Act and the Letters Patent achieved the founding of the Colony, but the failure of the Wakefield plan meant that a second
South Australia Act
was required and this was enacted in 1842.
Sources
Jaensch, Dean (ed.),
The Flinders History of South Australia: Political History
, Wakefield Press, Adelaide, 1986.
Pike, Douglas,
Paradise of Dissent: South Australia 1829–1857
, 2nd edn, Melbourne University Press, Melbourne, 1967.
Description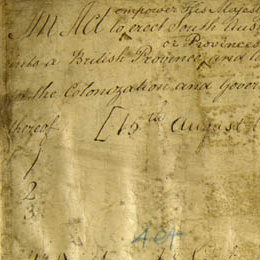 Detail from the title page of the South Australia Act, or Foundation Act, of 1834 (UK).
| | |
| --- | --- |
| Long Title: | An Act to empower His Majesty to erect South Australia into a British Province or Provinces, and to provide for the Colonization and Government thereof |
| No. of pages: | 18 + title page + 2 riders |
| Medium: | Vellum |
| Measurements: | 18 to 19 inches per membrane |
| Provenance: | British Parliament |
| Features: | The pages or 'webs' of this document are stitched together and stored rolled. This procedure was used in the House of Lords Archives before 1849. Two amendments are stitched in as 'riders'. |
| Location & Copyright: | House of Lords Record Office |
| Reference: | 4 & 5 Wm IV C.95 |