Significance
Queen Victoria's Letters Patent, signed on 29 October 1900, established the first Commonwealth office, that of her representative, the Governor-General. The Letters Patent declare the powers of the Governor-General to constitute and appoint Judges and Ministers of State, and grant the use of a private seal. With the
Constitution Act
, the
Royal Assent
and the
Royal Instructions
to the Governor-General, this is one of the four documents which created the new nation.
History
Queen Victoria appointed Lord Hopetoun as Australia's first Governor-General on 14 July 1900 and signed this document, legally establishing the office, on 29 October 1900.
The Letters Patent were read out to the assembled crowds at the
inauguration ceremony
in Centennial Park, Sydney, on 1 January 1901 when Lord Hopetoun took office.
Sources
Eastman, David, (comp.),
The Founding Documents of the Commonwealth of Australia
, Canberra, 1994.
Description
This document is two large parchment pages with a border around the top and sides of both pages showing the Royal Coat of Arms, and figures representing Justice, Defence, Agriculture and Science, and Mercy, and two supporting angels.
Queen Victoria's seal, inscribed with the Royal style and title Victoria Dei Gratia Britt Regina Fid def ind imp (Victoria by the Grace of God of the United Kingdom of Great Britain and Ireland, Queen, Defender of the Faith, Empress of India), is attached to the second page of the letter by a cord, and housed in a round black shellacked metal case, 15.5 cm in diameter.
The whole is housed in a wooden box covered with red leather. The centre of the lid bears the royal coat of arms embossed in gold. The box is lined with royal purple velvet.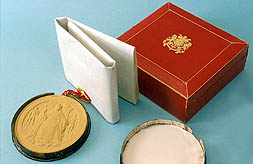 Detail of Queen Victoria's seal and the box in which it is housed.
| | |
| --- | --- |
| Long Title: | Queen Victoria's Letters Patent constituting the Office of the Governor-General 29 October 1900 |
| No. of pages: | 2 |
| Medium: | Parchment |
| Measurements: | Document: 60 x 58cm Case: 22 x 25cm |
| Provenance: | Presented by Queen Victoria to Lord Hopetoun on 29 October 1900; kept in the Office of the Governor-General until transferred to the National Archives in 1977 |
| Features: | An elaborate and beautiful document |
| Location & Copyright: | National Archives of Australia |
| Reference: | NAA: A10873 |