New South Wales Courts Act 1787 (GB)
Significance
This document is the assent original of the foundation Act of the legal system of the Australian colonies, establishing the first criminal court. It ensured that British law landed with the First Fleet in 1788 and that the convict colony had the basis for law enforcement. The Act also allowed for a more 'summary' legal proceeding than was usual, adapting court procedures to the conditions of the new convict colony. The Court was established by the
Letters Patent
of 2 April 1787.
History
New South Wales had been chosen by the British Government as a penal colony, to which convicts (many of whom had had their death sentence commuted to transportation) were destined. The convicts would greatly outnumber the free, and discipline was uppermost in planning for the Colony. This concern was reflected in the
Instructions
given to Captain Arthur Phillip in 1787.
Sources
Neal, David,
The Rule of Law in a Penal Colony
, Cambridge University Press, Melbourne, 1991.
Description
Handwritten on membranes of vellum about 18–19 inches long and 12 inches wide, sewn end-to-end and then rolled up. The vellum is in creamy shades and the ink is brown.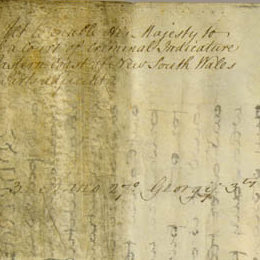 Detail from the cover of the New South Wales Courts Act 1787 (UK).
| | |
| --- | --- |
| Long Title: | An Act to enable His Majesty to establish a Court of Criminal Judicature on the Eastern Coast of New South Wales, and the Parts adjacent |
| No. of pages: | 6 + title page |
| Medium: | Vellum |
| Measurements: | 18–19 x 12 inches per membrane |
| Provenance: | British Parliament |
| Features: | The membrane of the title page is very thin allowing ink from the next page to permeate the vellum |
| Location & Copyright: | House of Lords Record Office |
| Reference: | 27 Geo. III C.2 |