South Australia Act 1842 (UK)
Significance
This document is the original of the second South Australia Act. Assented to on 3 July 1842, it repealed the
Act of 1834
and gave all powers to the Governor and a Legislative Council of at least seven members nominated by the Crown, subject to the Colonial Secretary.
History
Confused administration, land speculation and economic recession caused the Wakefield experiment to fail and the Province was brought to the edge of bankruptcy in 1840. A British Parliamentary Enquiry recommended the replacement of the Colonisation Commissioners with a more orthodox form of colonial administration.
Sources
Castles, AC and Harris, MC,
Lawmakers and Wayward Whigs
, Wakefield Press, Adelaide, 1987.
Jaensch, Dean (ed.),
The Flinders History of South Australia: Political History
, Wakefield Press, Adelaide, 1986.
Pike, Douglas,
Paradise of Dissent: South Australia 1829–1857
, 2nd edn, Melbourne University Press, Melbourne, 1967.
Description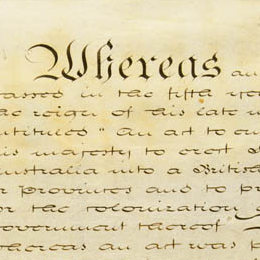 Detail from the first page of the handwritten document introducing the South Australia Act 1842 (UK).
| | |
| --- | --- |
| Long Title: | An Act to provide for the better Government of the province of South Australia |
| No. of pages: | 15 + title (6 shown here) |
| Medium: | Vellum |
| Measurements: | 18–19 inches x 12 inches per membrane |
| Provenance: | British Parliament |
| Features: | The notation on the first page conveys the Queen's Assent, and also that of the House of Lords |
| Location & Copyright: | House of Lords Record Office |
| Reference: | 5 & 6 Vic. C.61 |