Chinese Immigration Act 1855 (Vic)
Significance
This document is the Assent original of an Act of the Victorian Parliament which restricted the entry of Chinese people into the Colony, the first such law in Australia.
History
The discovery of gold near Ballarat in 1851 was followed by further discoveries of very rich alluvial deposits. In the next five years more than 200 000 people flocked to Victoria. They came from Europe, America and China. The Chinese attracted particular hostility and in 1855 were the subject of constant debate, with the Governor the target of appeals for a solution. Governor Hotham was pressed on all sides about the issue, as revealed in the records of his inwards correspondence, as well as in newspaper cuttings of the time. Governor Hotham, whose signature is on this document, warned of the dangers of the 'traffic in slaves' in his despatches to the Colonial Secretary in London.
The Act limited the number of Chinese passengers on a vessel to one for every 10 tons, and appointed protectors to regulate their activity and shield them from attacks. The new law did not end the entry of Chinese immigrants, many of whom landed instead in South Australia and travelled by land to the goldfields along tracks still evident today. Nor did the protection system avert violent assault, and there was a major race riot at Buckland River in 1857.
The Victorian legislation was followed, by a similar law in New South Wales after a major race riot there at Lambing Flat in 1860–61. This statute, and the explanatory commentary in the despatch with which it was sent to the Colonial Secretary, are revealing documents about the erratic and separate paths of the ideas of liberty and democracy in Australian history. The Victorian Act foreshadowed further measures to restrict Chinese immigration in the colonies, and the new Commonwealth Parliament passed an
Immigration Restriction Act
in its first year.
Sources
Cronin, Kathryn,
Colonial Casualties: Chinese in Early Victoria
, Melbourne University Press, Melbourne, 1982
Description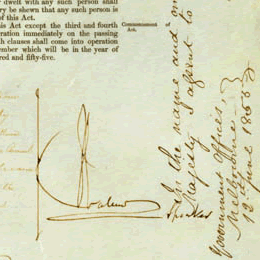 Detail from the last page of the Chinese Immigration Act 1855 (Vic) showing assent and signatures.
| | |
| --- | --- |
| Long Title: | An Act to Make Provision for Certain Immigrants (No. 39 of 1855) |
| No. of pages: | 3 |
| Medium: | Paper |
| Measurements: | 24.5 x 42 cm |
| Provenance: | Parliament of Victoria |
| Features: | Signatures. |
| Location & Copyright: | Registrar-General Victoria |
| Reference: | 55. |