Governor La Trobe's Instructions, 11 September 1839 (NSW)
Significance
This document is the official recognition of the region south of the Murray River as a separate district within the Colony of New South Wales. Charles Joseph La Trobe is required to administer the 'Port Phillip District', reporting to the Governor of New South Wales, and obeying all his commands.
History
From 1836 the settlement at Port Phillip was administered by a police magistrate, Captain William Lonsdale. When Geelong and Portland were officially opened to settlement, newcomers were attracted by the availability of fertile land which was occupied without regard to the entitlements of its
Aboriginal owners
. By the end of the 1830s, much of the Western District had been claimed and Melbourne had grown into a town of 4000 inhabitants.
On 31 July 1839, at the request of Governor Bourke, Charles Joseph La Trobe was gazetted Superintendent of Port Phillip with the powers of a Lieutenant-Governor. On 10 September 1839 the New South Wales Colonial Secretary, Edward Deas Thomson, sent this letter and Commission to La Trobe, setting out his authority and his duties.
Although La Trobe had spent much of his early life in Switzerland and had little administrative experience, nevetheless, in 1851 he became the Lieutenant-Governor of the newly declared Colony of Victoria and continued in this post until 1854.
Sources
Shaw, AGL,
A History of the Port Phillip District: Victoria Before Separation
, Miegunyah Press, Melbourne, 1996
Description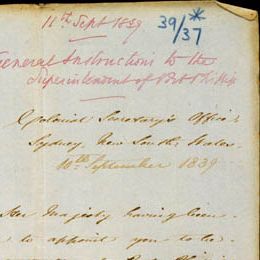 Detail of the handwritten general instructions from Governor LaTrobe.
| | |
| --- | --- |
| Long Title: | General Instructions to the Superintendent of Port Phillip 10 September 1839 |
| No. of pages: | 13 |
| Medium: | Paper |
| Measurements: | 20.5 x 33 cm |
| Provenance: | Colonial Secretary, New South Wales |
| Features: | Well preserved document, handwriting faded but legible |
| Location & Copyright: | Public Record Office Victoria |
| Reference: | PROV: VPRS 19/p, Unit 1, File 39/3 |