Seat of Government Surrender Act 1909 (NSW)
Significance
This document completed the transfer of land from New South Wales to establish the Federal Capital Territory as the seat of Commonwealth government. It was enacted on 14 December 1909, the day after the Commonwealth's
Seat of Government Acceptance Act
became law.
These two Acts altered the boundary of New South Wales by excising an area of about 900 square miles in the
Yass-Queanbeyan
district, and eight other parcels of land near
Jervis Bay
.
History
Before the Commonwealth could acquire the territory in the location specified in the
Seat of Government Act 1908
, New South Wales had to surrender it. On 18 October 1909 an 'Agreement of Surrender of Territory to Commonwealth' was jointly signed by Prime Minister Alfred Deakin and New South Wales Premier Charles Wade.
The boundaries of New South Wales, fixed in 1859 after many changes during the first seven decades of British occupation, were again altered when the excision of the two areas took effect on 22 January 1910.
Sources
Drinkwater, Derek, 'How McDougall reached the shore: the Senate and the federal capital site 1901–1910',
Canberra Historical Journal
, Vol. 42, September 1998, pp. 26–35.
Pegrum, Roger,
The Bush Capital
, Hale & Iremonger, Sydney, 1983.
Description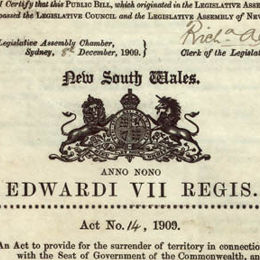 Detail from the title page of the Seat of Government Surrender Act 1909 (NSW)
| | |
| --- | --- |
| Long Title: | An Act to provide for the Surrender of territory in connection with the Seat of Government of the Commonwealth, and other purposes. (Act No. 14 of 1909) |
| No. of pages: | 9 |
| Medium: | Parchment |
| Measurements: | 21 x 30 cm |
| Provenance: | Legislative Assembly of New South Wales |
| Features: | The pages are interlaced with green ribbon down the left-hand side, with a paper-covered seal at the top |
| Location & Copyright: | New South Wales Land Titles Office |
| Reference: | No. 14 of 1909 |