Significance
This document, enacted on 24 June 1985, introduced a new regime of land dealings and services for Aboriginal and Torres Strait Islander people, with another law, the
Community Services [Aboriginal] Act Amendment Act 1986
.
Under this Act, not even the Crown had power to grant leases of Deed of Grant in Trust (DOGIT) land to unqualified persons, thus reversing a long-standing colonial process of segregation, surveillance and exploitation.
History
During the 1960s and 1970s, the Queensland Department of Aboriginal and Islander Affairs (DAIA) had remained the most intransigent against reform of any of the government agencies dealing with 'native affairs' issues in Australia. By the early 1980s, the mounting tide of protest against paternalistic racial legislation, emanating from Aboriginal activist groups and white supporters, had forced a reassessment of the situation whereby Aboriginal reserves and missions remained under authoritarian white control.
In 1982, the Queensland Government decided that Aboriginal reserve and mission land should be handed over to the control of Aboriginal councils in the form of a Deed of Grant in Trust (DOGIT). This granted an estate in fee simple to local Aboriginal councils who could operate as trustees for the Aboriginal inhabitants of that settlement. Such land could no longer be held as Crown Land under the control of the Corporation of the Director of DAIA, but instead would be considered as freehold title held by local Aboriginal councils.
The Aborigines and Torres Strait Islanders (Land Holding) Act became law in June 1985 and the first deeds were issued in October. Initially these were granted to all 15 of the Torres Strait Islands where people lived, save for Murray Island, the subject of the case being fought by
Eddie Koiki Mabo
and others before the High Court.
Granting DOGITS to Aboriginal settlements (as reserves and missions were now called) on the mainland proved more problematic. There were intense negotiations over the land areas affected for each settlement and there were considerable misgivings over the issue of mineral, petroleum and forestry rights reserved by the Crown. The passage of the 1985 Act was accompanied by warnings from the National Party Government about individual initiative and the attainment of self-sufficiency through the development of private enterprise.
Encouragement of this ethos carried the danger of compromising a culture of communal control and spiritual responsibility to the land. Considerable difficulties over policing the settlements also occurred, with the Queensland Police pleading budgetary restraints to law enforcement servicing (under the guise of self-management) to many of these regions. This made worse the already pressing problems of crime, violence and domestic instability in these impoverished communities.
Sources
Brennan, Frank,
Land Rights Queensland Style: The Struggle for Aboriginal Self-determination
, University of Queensland Press, St Lucia, 1992.
Kidd, Rosalind,
The Way We Civilise: Aboriginal Affairs – The Untold Story
, University of Queensland Press, St Lucia, 1997.
Description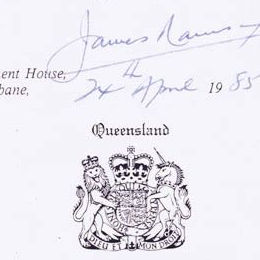 Detail showing the Queensland crest and signature of the Governor assenting to the Aborigines and Torres Strait Islanders (Land Holding) Act 1985 (Qld).
| | |
| --- | --- |
| Long Title: | An Act to Provide for the Grant of Leases in Perpetuity and other Title in Land to Members of Communities of Aborigines or Torres Strait Islanders and for Related Purposes and to Amend the Land Act (Aboriginal Land Grants) Amendment Act 1982–1984 in certain Particulars. (No. 41 of 1985) |
| No. of pages: | 19 |
| Medium: | Paper, with green silk ribbon and red wax seal |
| Measurements: | 24 x 19 cm |
| Provenance: | This document is the original from the Queensland Title Ofice, now held by the Queensland State Archives. In Queensland the Governor signs three assent originals of new Acts. One is a record held by the Parliament; one by the Supreme Court; and one is a record of the Executive branch of government. Originally held in the Queensland Land Titles Office, this document is the Executive record and is now in the custody of Queensland State Archives. |
| Features: | Red seal and green ribbon with the Governor's signature on p. 1 and signatures on pp. 18 and 19 |
| Location & Copyright: | Queensland State Archives |
| Reference: | QSA: SRS 1296/1/151 |