Charter of Justice 13 October 1823 (UK)
Significance
This document marked a departure from the
ad hoc
and pragmatic innovations that had characterised the application of law in early colonial New South Wales. The Charter of Justice (which took effect in New South Wales on 17 May 1824) provided for creation of a Supreme Court of New South Wales, with a single Chief Justice (and if necessary for extra Judges), for the appointment of Court officers, and the admission of solicitors and barristers. It also made limited provision for trial by jury.
History
With the establishment of the first (unelected) Legislative Council in New South Wales, came the creation of the Supreme Court and the limited provisions for trial by jury. This was extended by a proclamation of Governor Thomas Brisbane to the lower courts (although not yet to the Supreme Court itself).
The 1823 Charter empowered the Court to admit barristers and attorneys to practice, but unlike earlier Charters, it ruled out the admission of ex-convicts. The judges themselves ruled out ex-convicts sitting on juries, although in practice this was not always adhered to.
Sources
Neal, David,
The Rule of Law in a Penal Colony
, Cambridge University Press, Melbourne, 1991.
Description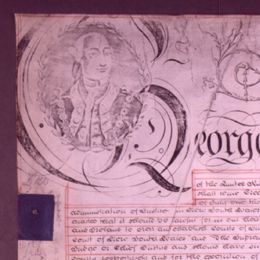 Detail from the decorative margin from the Charter of Justice 1823 (UK).
Long Title:
Charter of Justice 13 October 1823
No. of pages:
6

Medium:
Parchment

Measurements:

p. 1: 75.5 x 63 cm

p. 2–6: 67.5 x 57 cm

Provenance:
Royal Charter

Location & Copyright:
State Records New South Wales
Reference:
SRNSW: X22