Seas and Submerged Lands Act 1973 (Cth)
Significance
This document is an Assent original of the Act which extended Australian territorial seas from three to twelve miles, giving the Commonwealth sovereignty of the sea and sovereign rights to resources to the extent of the continental shelf. The Act came into operation the day this document was signed into law by the Governor-General on 4 December 1973.
History
Whether nations had rights over the seas, or whether seas should be free to all ships, had prompted arguments since the 16th century. In 1702 a Dutch international law theorist introduced the idea of the territorial sea, proposing that a nation should control as much of the sea as it could defend from its shore. The maritime nations agreed that this would be three miles, the range of a shore-based cannon. Two hundred and fifty years later, United Nations conferences on the Law of the Sea (in 1958 and 1960) were held; and Conventions agreed to in 1958 defined from 1964 national rights to, and the extent of, territorial seas and the continental shelf which extended the three-mile limit, mainly to enable member nations to protect their fishing grounds. The Conventions recognise each nation's sovereignty of its territorial sea measured from low water mark, sovereign rights to mineral and fishing resources within that limit, and shipping rights of 'innocent passage'.
Australia was a signatory to these 1958 Conventions; 15 years later the Seas and Submerged Lands Act was passed by the Whitlam Government in accordance with this international agreement, declaring that the Commonwealth had sovereignty of the territorial sea, the airspace above it, and the seabed below.
The validity of this Act was challenged by the States but upheld in a High Court decision in 1975 that the sovereignty of the States ended at low water mark. The
Coastal Waters (State Powers) Act 1980
altered the power granted to the Commonwealth by the 1973 Act.
In 1994 a United Nations Convention setting down that the limit of the territorial sea could extend to 12 miles came into operation. This limit had been informally recognised from the 1950s. The three-mile limit now only has relevance to custom duties – goods become duty free outside this limit.
Description
This document is in the form of a booklet with the signatures and date of Assent, 4 December 1973, on page 13 and the Commonwealth Coat of Arms on the front cover.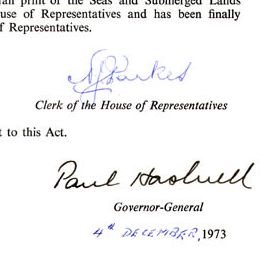 Governor-General Paul Hasluck signed his assent to this Act on behalf of Queen Elizabeth II.
| | |
| --- | --- |
| Long Title: | An Act Relating to Sovereignty in respect of certain Waters of the Sea and in respect of the Airspace over, and the Sea-bed and Subsoil beneath, those Waters and to Sovereign Rights in respect of the Continental Shelf and relating also to the Recovery of Minerals, other than Petroleum, from the Sea-bed and Subsoil beneath those Waters and from the Continental Shelf. (No. 161 of 1973) |
| No. of pages: | 14 + cover + contents page; page 14 blank |
| Medium: | Paper |
| Measurements: | 25 x 17.5 cm |
| Provenance: | House of Representatives |
| Features: | The Act includes two Schedules setting out the relevant international Conventions. The practice of including the text of treaties referred to in Bills changed in 2000: reference is now made instead to the relevant treaty in the online Australian Treaties Library. |
| Location & Copyright: | National Archives of Australia |
| Reference: | NAA: A1559/1, 1973/161 |