Conciliation and Arbitration Act 1904 (Cth)
Significance
This document introduced the rule of law in industrial relations for the whole nation by establishing the Commonwealth Conciliation and Arbitration Court.
History
The Conciliation and Arbitration Act had a difficult passage through Parliament – and brought down two governments, so that the new Commonwealth had four Prime Ministers in as many years. The Bill was drafted and introduced by Charles Cameron Kingston, Australia's pioneer of compulsory arbitration drawing on New Zealand legislation. Kingston resigned when Cabinet refused to allow the Bill to cover seamen on coastal ships. Alfred Deakin, who had succeeded Edmund Barton as Prime Minister when Barton was appointed to the new High Court in 1903, resigned in April 1904 after he introduced this legislation a second time. Labor Members succeeded in introducing an amendment to have the Bill cover State government employees, a provision Deakin believed to be unconstitutional.
The Labor leader, John Christian Watson, then became Australia's third Prime Minister, with the first Labor Government, but he too resigned in August 1904 after his Government was defeated in a vote on this Bill.
Sources
Gollan, Robin,
Radical and Working Class Politics: A Study of Eastern Australia, 1850–1910
, Melbourne University Press, Melbourne, 1960.
Pember Reeves, W,
State Experiments in Australia and New Zealand
, Allen and Unwin, London, 1902.
Description
This document is in the form of a booklet of 24 pages, bound with blue silk ribbon into a parchment cover. The signatures and date of Assent, 15 December 1904, are on p.23 and the Royal Arms is on the front cover.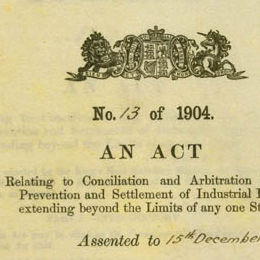 Detail from the cover of the Conciliation and Arbitration Act 1904 (Cth).
| | |
| --- | --- |
| Long Title: | An Act Relating to Conciliation and Arbitration for the Prevention and Settlement of Industrial Disputes extending beyond the Limits of any one State. (No. 13 of 1904) |
| No. of pages: | 24 + cover; page 24 blank |
| Medium: | Paper pages with parchment cover |
| Measurements: | 29 x 23 cm |
| Provenance: | House of Representatives |
| Features: | The red wax seal with the word 'Parliament of the Commonwealth' around a crown, was the official seal stamped onto the royal blue silk ribbon binding the document. In this case the seal bears the impression of another ribbon which must have rested on top of the warm wax. |
| Location & Copyright: | Bills & Papers Office, House of Representatives |
| Reference: | No. 13 of 1904 |