Significance
This document, which became law when signed by the Governor-General on 12 June 1902, set out who could vote in elections for the House of Representatives and the Senate, the two Houses of the new Commonwealth Parliament.
The Act excludes from enrolling to vote all 'aboriginal native[s] of Australia Africa Asia or the Islands of the Pacific except New Zealand' unless covered under Section 41.
Women in the four States without female suffrage achieved the right to vote in Commonwealth elections under Section 3 of this Act.
History
Women in all the Australian colonies had campaigned for the
right to vote
for years, and many saw Federation as their golden opportunity to become voters for the new national parliament. Because women (other than those excluded on racial grounds) could vote in
South Australia
(and thus the Northern Territory) and
Western Australia
, they were eligible under the Australian Constitution. Those in New South Wales, Tasmania, Queensland, and Victoria achieved the right to vote in the Federal election on 16 December 1903 under this Act. These women finally won the right to vote in their State elections in (August) 1902, 1903, 1905, and 1908 respectively.
At the time of Federation, Indigenous people in Western Australia and Queensland were not allowed to vote in their State elections and this exclusion carried over into Commonwealth elections under this Act. Even though Indigenous people in other States were in theory able to vote in Commonwealth elections under Section 41 of this Act, few could actually do so.
Despite continuing commitment to the 'White Australia' policy, in 1925 an amendment to this Act extended the right to vote in Commonwealth elections to all naturalised Australians regardless of their race. Granting the vote to people from India, which was part of the British Empire, was particularly contentious.
In 1949 another amendment permitted Aboriginal people who had served in the war to vote. In 1962 the right to vote was finally extended to all Aboriginal adults and voting was made compulsory for Aboriginal electors in 1983.
The Commonwealth Electoral Act 1973 reduced the qualifying age for voters from 21 to 18 years, amending the Commonwealth Electoral Act 1902.
Sources
Oldfield, Audrey,
Woman Suffrage in Australia: A Gift or a Struggle?
, Cambridge University Press, Melbourne, 1992.
Stretton, Pat and Finnimore, Christine, 'Black fellow citizens: Aborigines and the Commonwealth franchise',
Australian Historical Studies
, vol. 25, no. 101, October, 1993.
Description
This document has two untrimmed paper pages, printed on both sides, inside a parchment cover, held together with blue silk ribbon ties. The Royal Arms is on the cover and the first page. The Commonwealth Coat of Arms was not approved until 1908 and was not used on Acts of Parliament until many years later.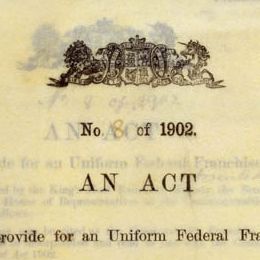 Detail from the cover of the Commonwealth Franchise Act 1902 (Cth).
| | |
| --- | --- |
| Long Title: | An Act to provide for an Uniform Federal Franchise (No. 8 of 1902) |
| No. of pages: | 2 + cover |
| Medium: | Parchment |
| Measurements: | 29.4 x 22.5 cm |
| Provenance: | The Senate |
| Features: | The differently tied blue silk ribbons on this document indicate its origin as a Bill introduced into the Senate |
| Location & Copyright: | National Archives of Australia |
| Reference: | NAA: A1559/1, 1902/8 |