Significance
This document, signed by Governor-General Lord Dudley on 13 December 1909, with the New South Wales parliament's
Seat of Government Surrender Act
enabled the transfer of an 'area about 900 square miles' of land from New South Wales to establish the Federal Capital Territory as the seat of Commonwealth government.
The Act transferred territory in the Yass-Queanbeyan area, and an additional eight areas in the vicinity of
Jervis Bay
, intended as a port for the inland city. The commencement date for the transfer was 22 January 1910.
As well as territory, the surrender and acceptance Acts also vested specific water rights in the Commonwealth. This was not an unusual provision at the time, when all states had programs for adequate water supply for inland towns.
History
The
Seat of Government Act 1908
ended the seven years of debate over the
location
of a federal capital territory. The Labor government led by Andrew Fisher instructed surveyor Charles Scrivener to define a territorial boundary and determine the site for the capital city. Scrivener completed his report on 26 May 1909. He subsequently noted several errors in the boundaries at Jervis Bay and these were corrected by the
Seat of Government Acceptance Act 1922
.
The Commonwealth government was then able to complete negotiations to acquire the land from New South Wales. Agreement with the New South Wales government to release the required amount of land was achieved on 18 October 1909.
The Territory was generally known as the Federal Capital Territory until 1938, when this Act was amended to confer the name 'Australian Capital Territory'.
Sources
Drinkwater, Derek, 'How McDougall reached the shore: the Senate and the federal capital site 1901–1910',
Canberra Historical Journal
, Vol. 42, September 1998, pp. 26–35.
Pegrum, Roger,
The Bush Capital
, Hale & Iremonger, Sydney, 1983.
Description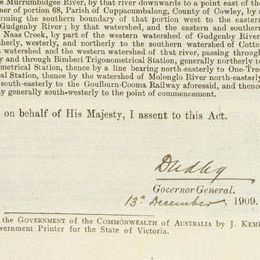 Detail from page 6 with the signature of Lord Dudley, assenting to the Act.
| | |
| --- | --- |
| Long Title: | An Act Relating to the Acceptance of the Territory surrendered by the State of New South Wales for the Seat of Government of the Commonwealth. (No. 23 of 1909) |
| No. of pages: | 8 + cover; pages 7–8 blank |
| Medium: | Parchment cover, untrimmed paper pages |
| Measurements: | 29.1 x 22.7 cm |
| Provenance: | The Senate |
| Features: | Features the Royal Arms though the King had granted the Commonwealth Coat of Arms the previous year |
| Reference: | NAA: A1559, 1909/23 |