Seat of Government Surrender Act 1909 (NSW)
Significance
This document is an assent original of the Act of the New South Wales Parliament agreeing to transfer to the new Commonwealth land selected as the site of the proposed Federal Capital Territory.
History
Section 125 of the
Australian Constitution
required the 'seat of government' to be in the State of New South Wales, not less than 100 miles from Sydney, and within a territory of not less than 100 square miles. This section was added to the Constitution in response to popular demand in the Colony to locate the federal capital in New South Wales, in recognition of its greater size and seniority. This was one of the concessions made by the other colonies at a
meeting of Premiers
early in 1899, after the first Constitutional referendum of 1898 was defeated in New South Wales. The agreement to locate the federal capital within New South Wales is credited with significantly contributing to the success of the second referendum in 1899, and hence the ultimate success of the movement to Federation.
During the first few years after the establishment of the Commonwealth, extensive inquiries were conducted across the State, with the aim of identifying the most suitable territory for the new Federal capital. When the area around what is now Canberra was chosen, the Commonwealth acquired it. But first New South Wales had to 'surrender' it. On 18 October 1909, an Agreement of Surrender of Territory to Commonwealth was jointly signed by the Prime Minister, Alfred Deakin, and the New South Wales Premier, Charles Wade. This Act of the New South Wales Parliament and the
Commonwealth Acceptance Act
gave legal effect to the agreement. The territory of New South Wales, fixed in 1859 after many changes during the first seven decades after British settlement, was now altered for the last time.
Description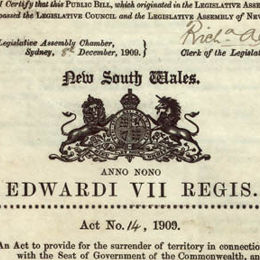 Detail from the title page of the Seat of Government Surrender Act 1909 (NSW).
| | |
| --- | --- |
| Long Title: | An Act to provide for the Surrender of territory in connection with the Seat of Government of the Commonwealth, and other purposes. (Act No. 14 of 1909) |
| No. of pages: | 9 |
| Medium: | Parchment |
| Measurements: | 21 x 30 cm |
| Provenance: | Legislative Assembly of New South Wales |
| Features: | The pages are interlaced with green ribbon down the left-hand side, with a paper-covered seal at the top |
| Location & Copyright: | New South Wales Land Titles Office |
| Reference: | No. 14 of 1909 |