Significance
This legislation was the formal act providing temporarily for the government of the Colony of Western Australia.
History
The Act was introduced into the British Parliament shortly after the first fleet had set out for the new Colony on 9 February 1829. It received the Royal Assent on 14 May 1829. The preamble to the Act stated that these were temporary arrangements until the number of settlers increased and the 'undertaking shall be further matured'.
The Act also made clear that no part of the colonies of New South Wales or Van Diemen's Land would be included within the new Colony.
This Act was extended by various other legislation from time to time until it was formally repealed by the
Australian Constitutions Act 1850
, [Constitutions] which dealt with the government of all of the Australian colonies.
Sources
Appleyard, RT & Manford, T,
The Beginning: European Discovery and Early Settlement of Swan River Western Australia
, University of Western Australia Press, Perth, 1979.
Battye, JS,
Western Australia: A History from its Discovery to the Inauguration of the Commonwealth
, Clarendon Press, Oxford, 1924.
Black, D,
The House on the Hill: A History of the Parliament of Western Australia 1832–1990
, Parliament of Western Australia, Perth 1991.
Clark, CMH,
Select Documents in Australian History, 1788–1850
, Angus & Robertson, Sydney, 1950.
Crowley, FK,
Australia's Western Third: A History of Western Australia From the First Settlements to Modern Times
, Macmillan, London, 1960.
Lumb, RD,
The Constitutions of the Australian States
, (5th edn), University of Queensland Press, Brisbane, 1991.
Stannage, CT,
A New History of Western Australia
, University of Western Australia Press, Perth, 1981.
Description
Handwritten on membranes of vellum about 18–19 inches long and 12 inches wide, sewn end to end and then rolled up.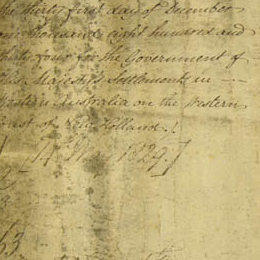 Detail from the last page of the Western Australia Act 1829 (UK).
| | |
| --- | --- |
| Long Title: | An Act to provide until the Thirty-first Day of December One thousand eight hundred and thirty-four, for the Government of His Majesty's Settlements in Western Australia, on the Western Coast of New Holland |
| No. of pages: | 3 |
| Medium: | Vellum |
| Measurements: | 18–19 inches x 12 inches per membrane |
| Provenance: | British Parliament |
| Features: | The vellum is in creamy shades and the ink is brown |
| Location & Copyright: | House of Lords Record Office |
| Reference: | 10 Geo. IV No. 63 |