Significance
This document was the first official step in establishing the Colony, appointing Stirling as Lieutenant Governor and providing his instructions (his only grant of formal power until 1831).
The Colonial Secretary stated in this document that 'It had been resolved by His Majesty's Government to occupy the Port on the Western Coast of New Holland at the mouth of the River called "Swan River" with the adjacent territory for the purpose of forming a settlement there'.
He then went on to inform Stirling that:
His Majesty has been pleased to approve the selection of yourself to have command of the Expedition appointed for that Service and the superintendence of the proposed Settlement. You will accordingly repair with all practicable despatch to the place of your destination on board the Vessel, which has been provided for that purpose.
He was to assume the title of 'Lieutenant-Governor'. The remainder of the document includes the detailed instructions to Stirling.
History
This document effectively confirmed the government's decision to approve the settlement of the Swan River. Colony
On 13 January 1829, regulations originally issued on 5 December 1828 were reissued in an amended form, setting out the terms on which the government was prepared to accept the colonisation of the Swan River Colony. The regulations set out the specific terms on which land would be granted to intending settlers and it was also specified that 'It is not intended that any convicts or other description of prisoners be sent to this new settlement', thus confirming the unique (to that date) nature of the new settlement. These regulations also led to the withdrawal of the garrison of soldiers and convicts from King George's Sound.
Sources
Appleyard, RT & Manford, T,
The Beginning: European Discovery and Early Settlement of Swan River Western Australia
, University of Western Australia Press, Perth, 1979.
Battye, JS,
Western Australia: A History from its Discovery to the Inauguration of the Commonwealth
, Oxford, Clarendon Press, Perth 1924.
Black, D,
The House on the Hill: A History of the Parliament of Western Australia 1832–1990
, Parliament of Western Australia, Perth 1991.
Clark, CMH,
Select Documents in Australian History, 1788–1850
, Angus & Robertson, Sydney, 1950.
Crowley, FK,
Australia's Western Third: A History of Western Australia From the First Settlements to Modern Times
, Macmillan, London, 1960.
Stannage, CT,
A New History of Western Australia
, University of Western Australia Press, Perth, 1981.
Description
The original paper has been folded in two, with writing on on all four sides – the pages are not otherwise attached. There are some tears and holes in the document, nevertheless it is fullly legible.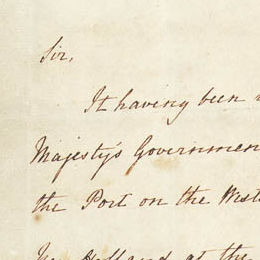 Detail from the first page of Lieutenant-Governor Stirling's Instructions.
| | |
| --- | --- |
| Long Title: | Sir George Murray to Captain James Stirling formally appointing him as Lieutenant-Governor of the Swan River Colony and furnishing him with his instructions, 30 December 1828. |
| No. of pages: | 16 including despatch cover |
| Medium: | Paper |
| Measurements: | 40 x 64 cm |
| Provenance: | British Government |
| Features: | Handwriting clearly legible |
| Location & Copyright: | State Records Office of Western Australia |
| Reference: | SROWA: WAS 1182, Cons 391/19 |