Significance
This document is the Assent original of an Act of the British Parliament which enabled Queen Victoria to assent to a Constitution Bill passed by the Legislative Council of Victoria. The Victorian Bill was sent to the Colonial Office in London, amended and submitted to the British Parliament. The Constitution is Schedule 1 of the Act.
History
The decision by the British Government that the colonies should proceed to responsible self-government reached Victoria in 1853. The Legislative Council formed a sub-committee to draft a Constitution which was considered by the Council in early 1854. The draft Constitution established the
bi-cameral parliament
, with property qualifications for voters and members set at higher levels for the Upper House of the Parliament.
The Constitution Bill passed by the Victorian Legislative Council was then sent to London for consideration by the British Parliament and the Queen's Assent. This was delayed in part by preoccupation with the Crimean War. The Imperial Parliament made various amendments (partly to safeguard Imperial authority on Imperial issues) and passed this Act, incorporating the Victorian Constitution. The Act received Royal Assent on 16 July 1855 and a copy was sent back to Victoria on 20 July 1855 with a despatch informing the Governor of the Royal Assent and explaining the changes. The Act stipulates that it will take effect in Victoria on a date within three months of the Governor receiving the notification.
Meanwhile, at the end of 1854, diggers on the Ballarat goldfield rose up to protest their grievances. On 11 November they resolved 'it is the inalienable right of every citizen to have a voice in making the laws that he is called upon to obey – that taxation without a representation is tyranny'. Some of the protestors took an oath to defend their liberties and erected a stockade. The Eureka stockade was overrun by troops and the leaders put on trial, but juries refused to convict them. An inquiry into the event suggested that the diggers had justified grievances.
Strictly speaking, the advent of self-government was not brought about by Eureka, but had already been set in train. However, the principles of democracy and liberty overwhelmingly demonstrated at Eureka Stockade quickly entered into the Victorian system of representative government.
Sources
Serle, Geoffrey,
The Golden Age: A History of the Colony of Victoria 1851–1861
, Melbourne University Press, Melbourne, 1963.
Waugh, John,
The Rules: An Introduction to the Australian Constitutions
, Melbourne University Press, Melbourne, 1996.
Description
Printed in black ink on gatherings of off-white vellum leaves which are pierced with three holes in the left-hand margin and bound by a red silk tape passed through them and tied on the front cover.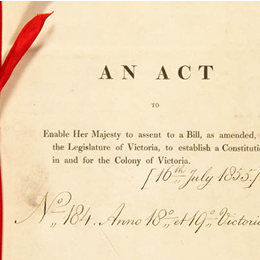 Detail from the title page of the Victoria Constitution Act 1855 (UK).
| | |
| --- | --- |
| Long Title: | An Act to enable Her Majesty to assent to a Bill, as amended, of the Legislature of Victoria, to establish a Constitution in and for the Colony of Victoria. |
| No. of pages: | 39 + cover (9 plus cover shown here) |
| Medium: | Vellum |
| Measurements: | Approximately 8 inches x 12 inches |
| Provenance: | British Parliament |
| Features: | The Royal Assent is signified on this document in the traditional phrase in medieval French 'la Reyne le Veult' (the Queen wills it). The signature of the Clerk of Parliaments is on the last Page. |
| Location & Copyright: | House of Lords Record Office |
| Reference: | 18 & 19 Vic. No. 184 |