Real Property or 'Torrens Title' Act 1858 (SA)
Significance
This law, assented to on 27 January 1858, revolutionised the method of recording and registering freehold title in land. The Act introduced a system for the issue of government certificates and the establishment of a central register to provide legal certainty to the registered owner. It eliminated grounds for most dispute litigation, avoided the consequences of lost certificates, and greatly reduced the costs of land sale and transfer.
The system was adopted in the rest of Australia and in many countries overseas and is known as the 'Torrens Title' system.
History
In a Colony with land settlement and tenure as the basis of its establishment, it is not surprising that a simplified system of conveyancing, where the government takes responsibility for registering and validating title, was developed there. The system takes its name from Robert Richard Torrens, Registrar-General, who steered the measure through the South Australian Parliament. He claimed the idea was based on simplified principles used in transferring shipping property, but credit for its chief features belongs to Ulrich Hubbe, who introduced the concepts from his native Germany.
The legislation was refined over the next three years, including a provision which further reduced costs by breaking the monopoly of lawyers in land transactions, achieved by the licensing of registered land brokers.
Description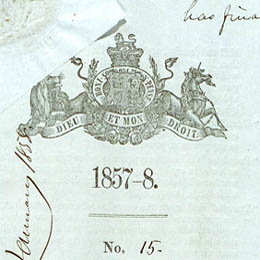 Detail showing the crest on the title page of the Real Property or 'Torrens Title' Act 1858 (SA).
| | |
| --- | --- |
| Long Title: | An Act to simplify the Laws relating to the transfer and encumbrance of freehold and other interests in Land (No.15 of 1857–58) |
| No. of pages: | 51 + cover |
| Medium: | Paper |
| Measurements: | 34 x 21.5 cm |
| Provenance: | House of Assembly, South Australia |
| Features: | This document is held in a tightly bound volume: the Governor's signature is thus not visible as the volume could not be opened sufficiently to provide a full image of the cover page |
| Location & Copyright: | Legislative Council of South Australia |
| Reference: | LCSA store |