Significance
This document, authorised by Queen Victoria on 13 March 1862, established the current western boundary of Queensland, adding 302 600 square kilometres to the Colony's territory.
This document played an important part in shaping English parliamentary and legal processes for determining Colonial boundaries in Australia.
History
When Queensland became a separate Colony in 1859, the western border was located at Longitude 141 degrees. Under British law, all territory between Queensland and Western Australia was at that time part of New South Wales. The Queensland Parliament first discussed the subject of the western border in 1860. Governor George Bowen advised London that the northern districts of Queensland would be quickly settled due to the 'unreasonable hostility to the pastoral interest evinced by a large portion of the population of Victoria and of New South Wales'. He asked British authorities to resolve the border issue so Queensland could 'take measures' for the settlement of land near the Gulf of Carpentaria.
During 1861, Robert Burke and William Wills explored the western part of Queensland, with 'certain gentlemen' in Victoria supporting this expedition as an important part of their plans to create a new colony in Northern Australia.
Governor Bowen advised the Secretary of State for Colonies in London that the resolution of the border question was a matter of 'Imperial as well as of Colonial importance'. According to Bowen, the projected Indo-Australian telegraph cable must 'obviously run by the Gulf of Carpentaria and its safety – indeed the feasibility of its construction, must chiefly depend on the speed with which Queensland shall be enabled to push forward the margin of colonisation over our northern territory'.
Bowen received the Letters Patent in Brisbane and this was published in the Queensland Government Gazette, Vol. 3, on Monday 23 June 1862, but this document has not been located.
The Letters Patent announced that Queensland had been granted 'Provisional Charge of the entire north-eastern corner of the Australian continent including the shores of the Gulf of Carpentaria up to the 138th Meridian'.
Despite this successful annexation, the western border of Queensland was not fully surveyed for another 25 years.
Sources
Cilento, Raphael with Lack, Clem,
Triumph in the Tropics: A Historical Sketch of Queensland
, Smith & Paterson, Brisbane, 1959
Executive Council Minutes, EXE/E7/63/2, 1863
Governor's Despatches, GOV/2, 1861 and GOV/4, 1863
Queensland Parliamentary Votes and Proceedings
, Brisbane 1861
Research trail
Letters Patent altering the western boundary of Queensland 13 March 1862
Attempts to locate the original Letters Patent have so far been unsuccessful. The document is not held by the Queensland State Archives, nor by the Queensland Parliament, and a search for it in the Public Record Office in London was also unsuccessful.
The transcript for this website was taken from the copy of the Letters Patent printed in the Queensland Government
Gazette
, Vol. III, on Monday 23 June 1862.
Description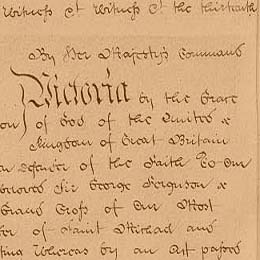 Detail from Letters Patent altering the western boundary of Queensland 1862 (UK)
| | |
| --- | --- |
| Long Title: | Letters Patent altering the western boundary of Queensland 1862 |
| No. of pages: | 2 |
| Medium: | Parchment, with stitching material |
| Measurements: | This document comprises two pieces, sewn with others into a long strip. The individual pieces have not yet been measured. |
| Provenance: | Issued by Queen Victoria in Council |
| Features: | The pages of this document are parchment 'webs' stitched with other Letters Patent and rolled for storage. |
| Location & Copyright: | National Archives of the United Kingdom |
| Reference: | C66/5013 No. 28 |