Royal Style and Titles Act 1953 (Cth)
Significance
This document established Australia's first specific title for the monarch 'in accord with current constitutional relationships within the British Commonwealth'.
The Schedule (page 3) states that the Australian form will be: 'Elizabeth the Second, by the Grace of God of the United Kingdom, Australia and Her other Realms and Territories Queen, Head of the Commonwealth, Defender of the Faith'.
History
In recognising the equality and autonomy of the British Dominions, the
Balfour Report
in 1926 proposed a change to the Royal style and titles designated for King George V. That change was incorporated in the Statute of Westminster in 1931 and adopted by Australia's Parliament in
1942
.
After the accession of Queen Elizabeth II following the death of her father, King George VI in February 1952, a meeting of Commonwealth Prime Ministers in London in December that year decided that a change to the Royal style and titles was again needed in order to 'reflect the special position of the Sovereign as Head of the Commonwealth'. The meeting suggested a common form which would allow each member country to include specific words as required.
Following this decision, early in 1953 the Royal Style and Titles Bill was passed by Australia's Federal Parliament. Instead of assenting to the Bill as the Queen's representative, the Governor-General, Sir William McKell, on 18 March 1953 wrote the notation 'I reserve this Act for Her Majesty's pleasure' and Queen Elizabeth signed the two original assent documents on 3 April 1953.
A new form of the Royal style and titles came into operation when Queen Elizabeth assented to the
Royal Style and Titles Act 1973
.
Description
This document is in booklet form, the cover plain but for the Commonwealth Coat of Arms and the Queen's signature.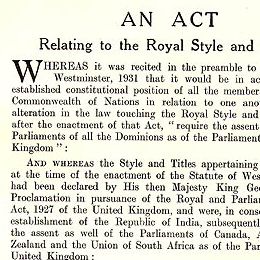 Detail from the Act relating to Royal Style and Titles.
| | |
| --- | --- |
| Long Title: | An Act Relating to the Royal Style and Titles (No. 32 of 1953) |
| No. of pages: | 4 + cover; page 4 blank |
| Medium: | Paper |
| Measurements: | 27.2 x 21.2 cm |
| Provenance: | House of Representatives |
| Features: | Assent by Queen Elizabeth shown by signature on cover and notation of Governor-General on page 3 |
| Location & Copyright: | National Archives of Australia |
| Reference: | NAA: A1559/1, 1953/32 |